Circle K Active Start Soccer Fest
---
---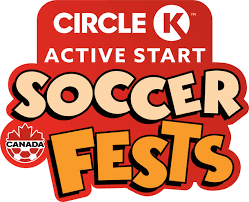 ---
The season is flying by and we are all set to host Our annual Wrap up Festival for our U5, U7 and U9 soccer players.
The wrap-up will be 10:00-12:30 Saturday, August 14, 2021 round robin games ending with a barbecue.
HelloFresh is partnering with Canada Soccer on the 2021 Circle K Active Start Soccer Fests season. They are offering $90 off your first three boxes (using the provided hangtags your participant will receive at the wrap-up).
AND HelloFresh and Canada Soccer have teamed up to offer a unique National Team Experience Contest for all Circle K Active Start Soccer Fests participant clubs!
Every time one of our club codes is redeemed by a festival participant it is added to a running club total.
The club that achieves the highest percentage of redemption will be awarded the opportunity to receive a unique National Team experience for your membership.
The contest period runs 90 days from the date of the wrap up.