The future of CQ is at risk
---
---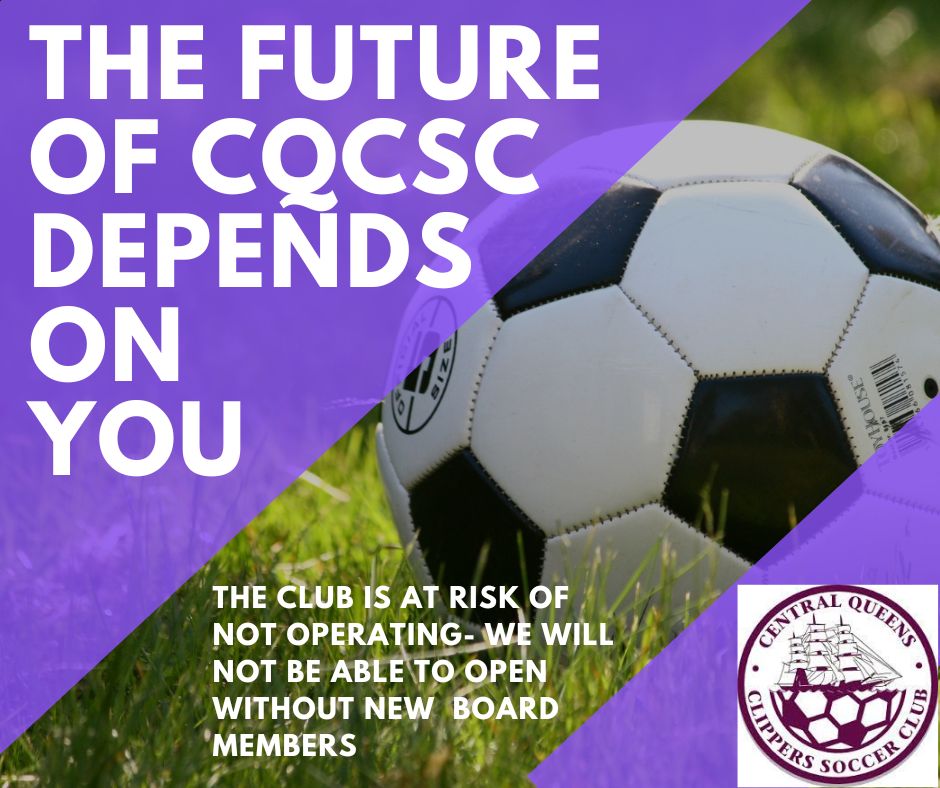 ---
Hello CQ family,
Over the last few years, the number of active CQ board members has declined to the point of extinction. Covid played a huge role in this but as with many volunteer organizations, attracting new members has proven difficult.
I am writing this today because we NEED your help. We are one of just two clubs on the Island owned and operated by our volunteers and without new volunteers to join the board and share the workload, there will be no soccer at CQ this season.
We are in a desperate situation.
We do not have an executive, which means there is no one at the helm and the ship is sinking.
I have been a member of CQ for the majority of my life. From player to coach to being on the board for the last 10 years, I am doing my part to ensure CQ continues but I cannot do it alone.
This club has been in our community for over 40 years and has put smiles on the faces of many soccer players, fans and families. Will it be a part of our community for the next 40 years? Only you can make that happen. The time to act is now, otherwise, CQ will be a thing of the past.
Now is the time to step up and get involved. It takes a village to raise our children and it is no different to run our soccer club.
It doesn't matter if you have played soccer, know anything about the sport or have kids involved in soccer to volunteer.
Everyone has strengths and we will find a way to utilize those strengths for the betterment of the club. Our past executive will be available for guidance and our current board members will continue to support one another.
We have yet to have our AGM but many decisions, pre-season planning and organizing need attention sooner than later.
Currently, our immediate need is to fill our executive as well as a registrar in training. We are open to co-chairs in those roles, so grab a friend.
Below is a list of board positions - If you are able to volunteer on the board or if you'd like more information on a specific role, please reach out to me. We are hopeful that members of our community will step up and save the club that we've worked so hard to build.
Thank you,
Erin MacRae-Forrest
Youth League Coordinator
CQCSC Board Positions
Past President
President
Vice President
Registrar
Treasurer
Secretary
Accounts Payable
Field Supervisor
Youth League Coordinator/RC Rep
U11 Coordinator
Senior Rep
Mini League Coordinator
U5 Coordinator
U7 Coordinator
U9 Coordinator
Youth League Equipment Manager
Mini League Equipment Manager
Youth Tournament Committee Chair
Grants/Funding
Social Media
Website/Communications
Clubhouse maintenance
Directors at Large for small projects/Committee members
Please spread the word with students, retirees, family, friends and neighbors- please consider joining our board and helping to save our club.